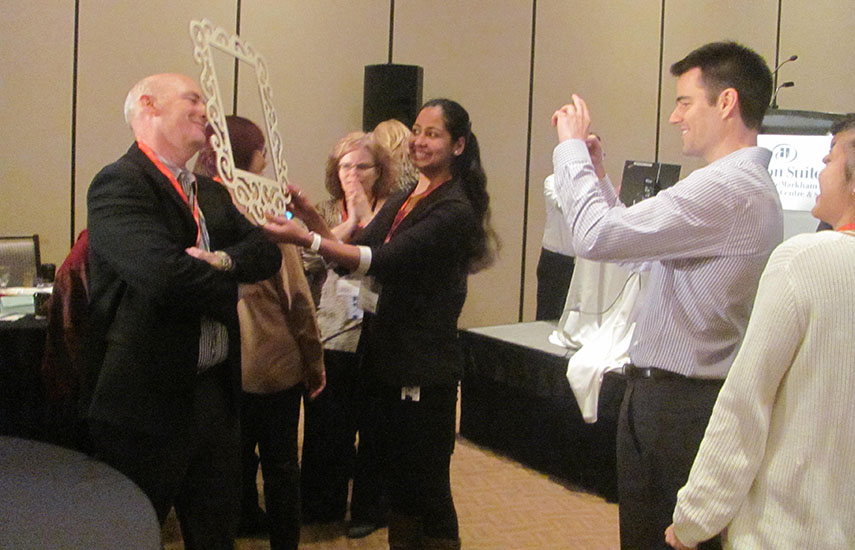 Learn useful and interesting facts about your coworkers!
Use Getting To Know You to break the ice with a new group, or enhance bonding in an old one.
Team building is an essential part of creating an atmosphere that your team members are truly invested in. Whether you are planning a group bonding event for a new group or trying to jumpstart an old one, Getting To Know You creates opportunities for instant bonding that is directly relevant to your day-to-day operations. Give your team members a chance to break the ice and learn more about each other in a comfortable, relaxed atmosphere with our smartphone scavenger hunt.
Request More Information
How it works
Everyone loves a good contest, and Getting To Know You social scavenger hunt adds a unique twist on a classic team building activity. Your team can use our custom smartphone app to connect other team members to questions on our scavenger hunt list created for your event. Participants turn in answers in the form of pictures, funny videos, or even quick text responses. For each question answered, participants earn points along the way.
Every challenge is quick and fun to complete, and gives your team members the chance to learn a lot about their new friends in a short period of time. Challenges include themes like hobbies, school, travel, works, skills, and personal interests. These themes are guaranteed to start deeper conversations and create a solid foundation for friendships and working relationships.
Give your team members anywhere from one to three hours of total entertainment with the added benefit of deeper bonding.
Utilizing smartphone technology for easier bonding
With our convenient smartphone app, participants can focus more on the individuals in front of them than filling out a form. Our app makes it easy to use the social scavenger hunt for groups of any size with little preparation. From beginning to end, every step is automatic and in real-time. This makes for a fun, entertaining, exciting activity that builds strong bonds.
The activity unfolds in real-time on any Internet-enabled device so everyone can watch the action live. Encourage healthy competition and entertainment with a contest that is low-maintenance, easy, and fun to complete. Everything is automated and effortless on your part, as you get everything you need for success.
Check out our video introduction to our smartphone app:
Benefits of networking and team building activities
You've likely been in an awkward situation where you are tasked with getting to know a group of people quickly and don't know where to start. Getting To Know You networking activity rids the room of those awkward, tense silences and offers an assortment of benefits, including:
Entertaining, energizing, fun activities
Bonds forged quickly between individuals
Break the ice with little to no awkwardness at any event
Encourage collaboration in your group
Bring large groups together in little to no time
Getting To Know You social scavenger hunt creates a unique opportunity for participants to relax and be themselves as they learn more about others. Offer prizes for the more competitive team members, or just create an engaging environment for everyone to relax. With such diverse challenges, participants will have to recirculate through the room several times before their form is complete.
A few challenges to break the ice:
Each participant will work against the clock to complete as many challenges as time allows.
SAMPLE CHALLENGES:
The Artist
Whose favorite subject was Art class? Take a photo with that person teaching you how to paint or sculpt and write their name in the caption space.
Hidden follow up:
Masterpiece Theater – Get that person to draw a picture for you and take a photo of it.
Veterans Day
Who used to serve in the military or currently serves in the military reserves? Take a 5-second video of that person doing their best angry drill sergeant impression.
Band Stand
Who is in a band or used to be in a band? Take a 5-second video of that person "air playing" the instrument they played in the band as well as making the instrument sound effects.
Request More Information
GETTING TO KNOW YOU IS AVAILABLE ANYWHERE, IN ANY TIME FRAME, FOR ANY GROUP SIZE
One of the coolest benefits of this event is it can be run anywhere in the world! This is perfect for companies with offices spread out across the country or even around the world. Wherever people are participating, we recommend you finish with some post-event storytelling and winner recognition.
This activity is completely flexible when it comes to time and place. Looking for something fun to do in a compressed time like a lunch hour or conference break? We can make that work too.
And yes, like almost all of our team building activities, this event is completely scalable for large groups of any size. This particular event is maybe the world's best solution for scaling up for groups of 1,000, 5,000, 10,000 or more!
Your investment includes:
Custom-built Getting To Know You, branded for your company
A password-protected smartphone activity, made private for your group
Access to the live leaderboard and activity stream
Full, personal instructions for you and your team
The option to add on custom challenges
Pricing for events like this one varies depending on several factors, such as your group size, your preferred event location, and your chosen event date. The investment does not include any venue or location rental fees.
Request More Information
Key Facts
Activity Level : Non-Active
Competition Level : Competitive
Desired Outcome : Fun
Investment Level : Hosted ($35 – $260pp), Self-Hosted ($11 – $44pp), Virtually-Hosted ($13 – $68pp)
How much does this event cost?
Self-Guided Smartphone Powered Events
If you would like to run this activity yourself, pricing for the majority of groups we work with ranges from $11 to $44 per person, with a minimum spend of $250. For larger groups we'll be as flexible as possible to work within your budget. For smaller groups we do not have a minimum total investment level. Pricing does not include any venue or location rental fees.
Hosted Smartphone Powered Events
If you would like our team to be on-site to run this activity for you and your group, pricing for the majority of groups we work with ranges from $25 to $195 per person. For smaller groups we do have a minimum total investment level of $3,900+. For larger groups we'll be as flexible as possible to work within your budget. Pricing does not include any venue or location rental fees.
Express Smartphone Powered Events
If you need a quick shot of team building that will inject energy and fun into a short amount of time, the express version of this activity may be a good option for you. At just $7 to $27 per person, with a minimum spend of $150, as express activities come with fewer challenges and a recommended timeframe of one hour or less. There is no minimum investment, and for larger groups we'll be as flexible as possible to work within your budget. Pricing does not include any venue or location rental fees.
Contact us for a fast and personalized proposal that addresses your program specifics, group dynamics, objectives and budget.
Reviews for Getting To Know You
" We found your staff to be very professional, prompt in their responses and efficient. We found the app to be very user friendly and the instructions very detailed and simple. Thank you for making our event a super success! "
Get the team building activity help you need today!
Contact our team at 1-877-713-7238 to discuss what you're looking for and experience for yourself why people who plan team building activities for the most successful companies in Mountain View rely on our talented team. Whether you have a large group of 1000 plus, or something much smaller, we can help. And if you require it, all our activities are available in a bilingual format!
Need a detailed proposal right away? That's our specialty.
Part of an independent meeting planning firm? See why a meeting planner partnership with us and our vast array of group activity solutions makes great business sense.
Download Our Guide to Innovative Corporate Team Building Events
Looking for a unique corporate teambuilding event in Mountain View or group activity your clients will get excited about? Have a look at the team building ideas we provide to successful and emerging companies from around the world. They are all designed to improve morale, increase camaraderie and enhance productivity.
Recent Client Feedback
We thrive on helping our partners achieve their goals through our unique and innovative suite of corporate team building events and group activities. Feedback like this is what we strive for every time!